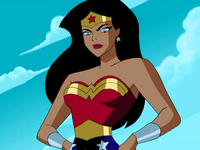 Wonder Woman originally from DC comics.
Character History
Edit
She was originally reluctant to join the planet but after some persuasion by Livewire she eventually agreed to come to the planet. She mostly with a quiet uneventful life except for the universe seems to be preventing her from holding down a job.
Relationships
Edit
Livewire is her main lover ever since just before she arrived on the planet.
Friends with beanfeasts.