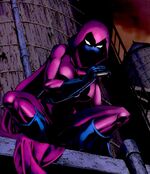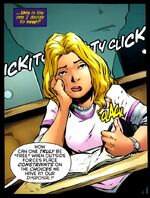 Spoiler a.k.a. Stephanie Brown originally from DC comics and Batman.
Character history
Edit
Stephanie first showed up back on Earth messing with her "brother" Dick Grayson as well as his old team members. She was wearing the red X costume for reasons unknown. She has since come to the planet.
She was not a very popular person on the planet always living in the shadows of her "sister" Barbara Gordon. That is until she decided to start a half baked expiration journey and forgot to to tell her volunteers which you was surprised she had any that she wasn't ready yet when they all seem to think it was a week before she had it scheduled.
Sent she led the expedition she got the most glory for rediscovering the original species of the planet.
Relationships
Edit
she's on good terms with her bat family that are on the planet. Even the reformed felons especially Harley.
She is single holding a candle out for Cassandra/Black bat who is not on the planet as of yet.