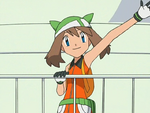 May originally from Pokémon is a perky upbeat Pokémon coordinator.
Character History
Edit
May was first seen on the planet in the Rocken Roast along with Misty. she lives in a house on the outskirts of town along with Ash and his girls.
she has three Pokémon in addition to her when she captured in her canon universe.